What is it about a bowl of soup that just tastes like comfort? Is it memories of being served soup when I was sick growing up? That it's warming to the body and soul? Or because it can turn all of your favorite flavors into one cohesive dish? Whatever it is, I simply love soup. Of course, a steaming hot bowl of chicken noodle soup is amazing on a cold winter night, but we're here to tell you that soup is for summer, too. And summer soup recipes are lifesavers to have on hand when you're craving something simple and nourishing. 
It's never too hot for soup–and I live in Texas, so that's saying something. 
Okay, maybe you won't find me eating hot tomato soup outside at noon, but for an air conditioned dinner? 100%. Soup also usually gets classified as a winter food because people forget the wonder that is cold soup. Gazpachos and vegetable purées are a summer staple in my house. Just this morning my mom was whipping up a gazpacho with all of the fresh produce in the fridge that we ended up nicknaming "salad soup." Super refreshing, light, and cool, but still soup! Healthy, too. So soup is a summer food after all, and I'm here to prove it to all those doubters. 
Read on for the 16 best summer soup recipes, hot and cold, to bring you all the comfort you've been craving. 
Hot Summer Soup Recipes
Why We Love It: This soup is a prime example of traditionally wintery soups still being amazing in the summer. I mean the base is all about the tomatoes, which are delicious right now. Of course tortilla soup is good year round, but I love it in the summer with the fresh avocado garnish. 
Hero Ingredient: The crispy tortilla strips… which are always in season.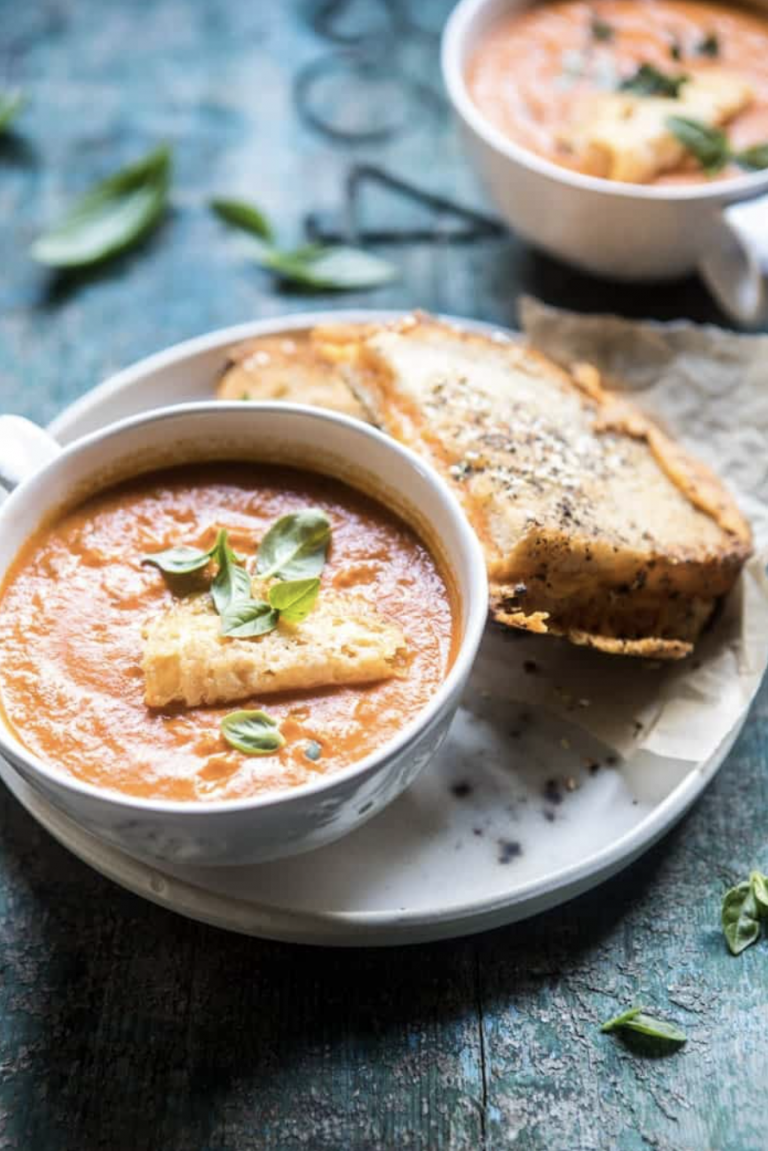 Why We Love It: This summer, one of my most memorable meals was a grilled cheese sandwich with tomato soup from The Tower Bar. It's such a simple meal, but hits the spot every single time. This recipe makes it so easy to recreate that meal at home… I mean it's only six ingredients! 
Hero Ingredient: Those gorgeous summer tomatoes you've been looking to use. 
Why We Love It: This soup is a great way to pack an inordinate amount of green veggies into one very delicious meal, ie. it's an immune-boosting powerhouse. That summer cold you have? This is what you need. You can also make it your own with whatever veggies you have with Camille's tips. 
Hero Ingredient: Ginger and alllll those fresh herbs.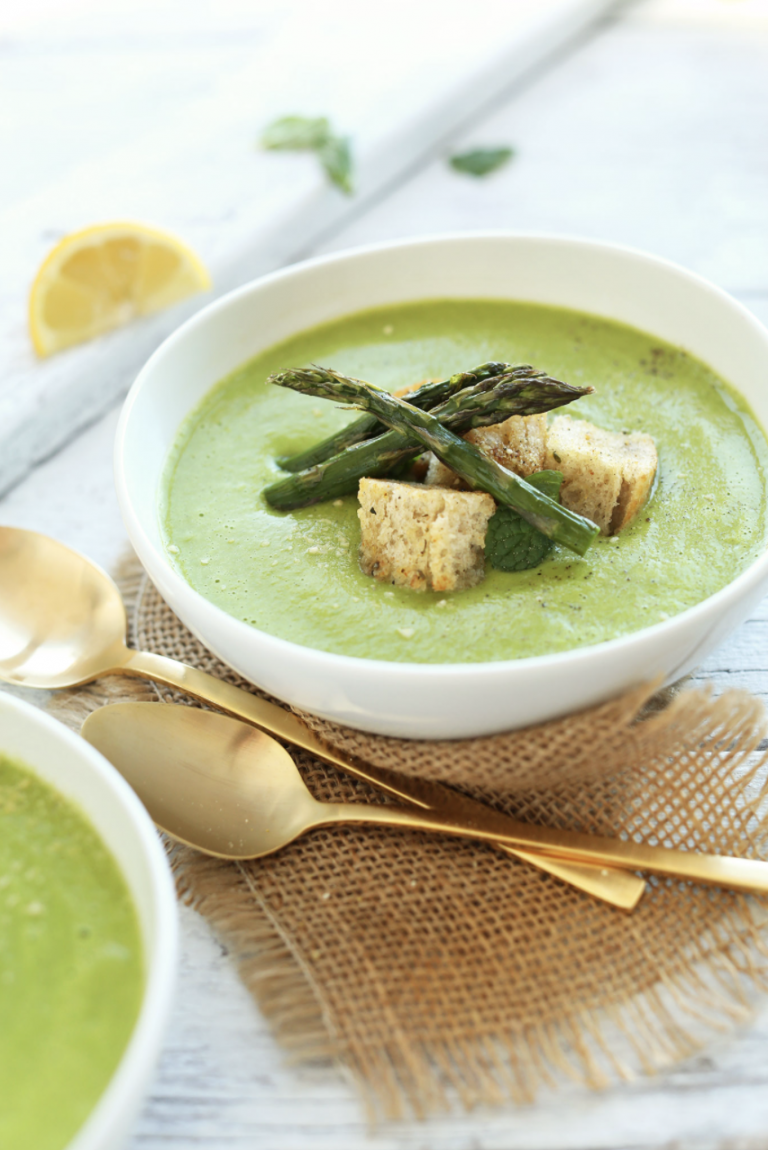 Why We Love It: Even though asparagus is a spring veggie, chances are you can still find some pretty great asparagus all summer. This soup is a gorgeous green, packed with nutrients, garlic, and optional (but not so optional) croutons. It's only made with nine ingredients, not including the croutons, but I promise you, you don't want to go without them.
Hero Ingredient: Asparagus always.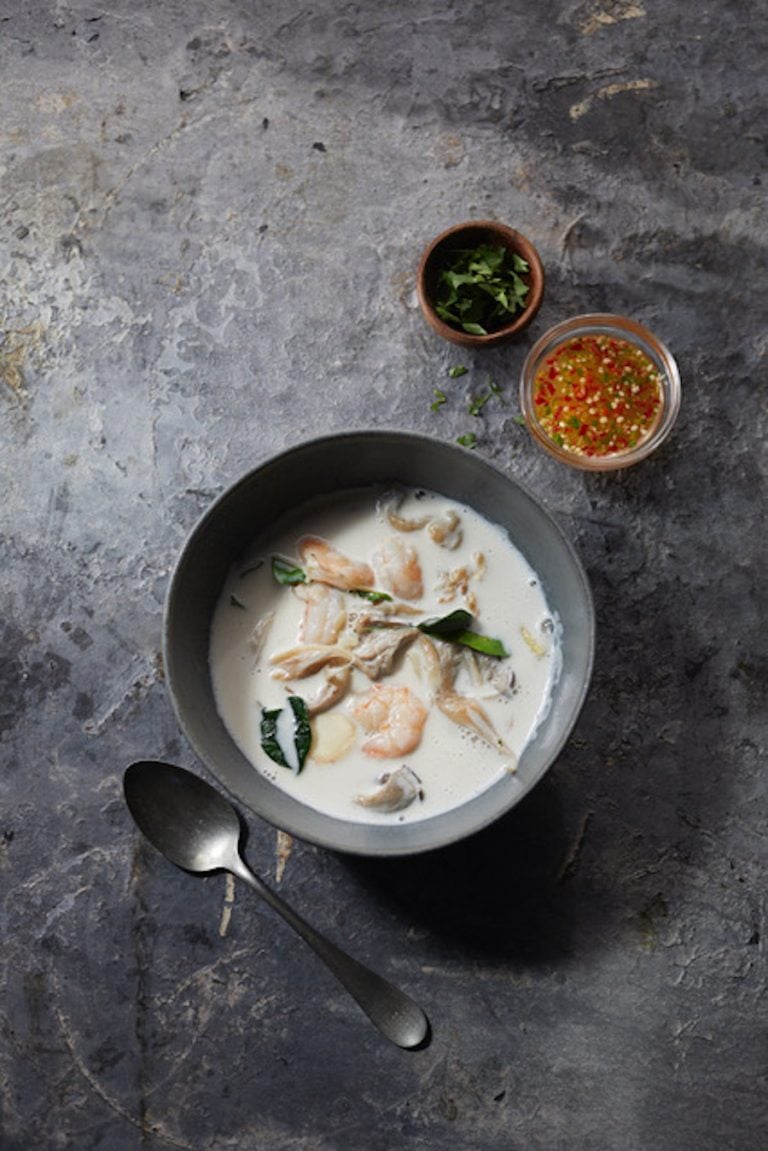 Why We Love It: This simple healthy Thai coconut soup (Tom Kha Kai) is a signature dish at Thai Fresh in Austin. It's the perfect balance of fresh, spicy, and creamy, and good all year round. 
Hero Ingredient: Lemongrass, it's the perfect time to eat it.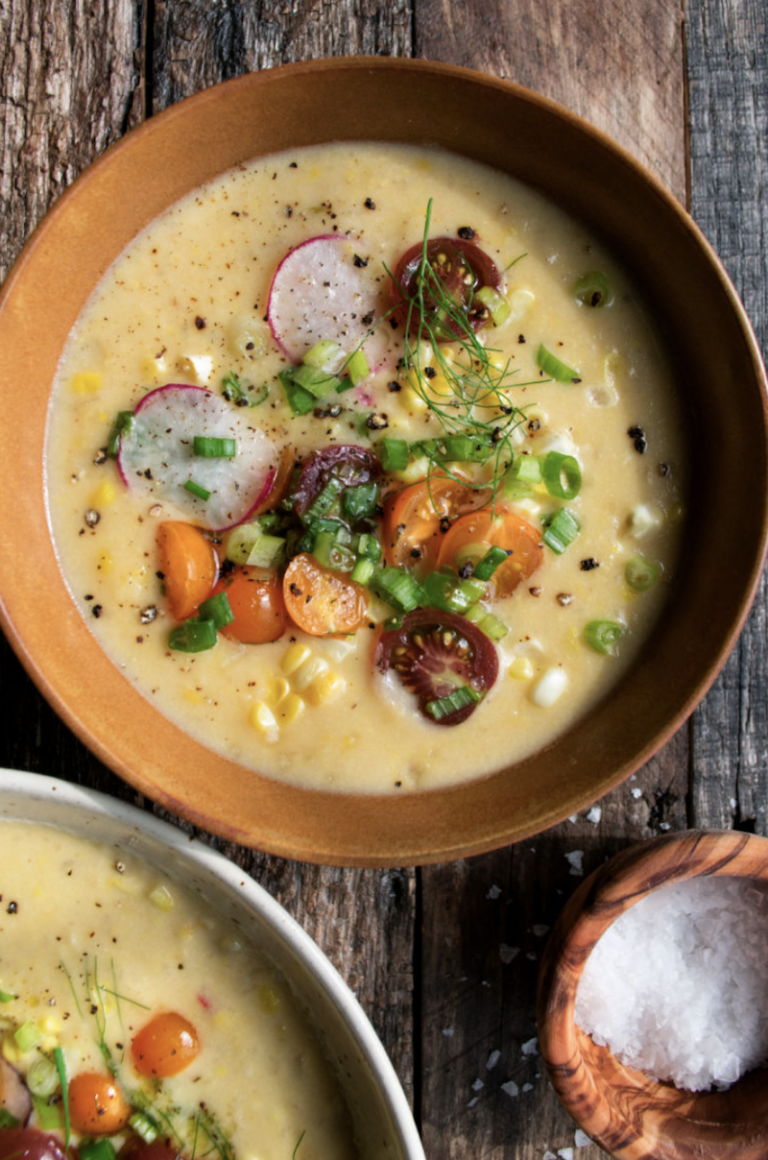 Why We Love It: I love this soup because I don't like corn. Super weird, but it's been one of those foods I've never been crazy about. However, this soup is good. It allows even corn haters to enjoy sweet summer corn in their best season. It's super light and fresh, and the tomatoes and radishes on top are the perfect *chef's kiss* garnish. 
Hero Ingredient: Never thought I'd say this, but CORN. Sweet and hearty, but still healthy and fresh.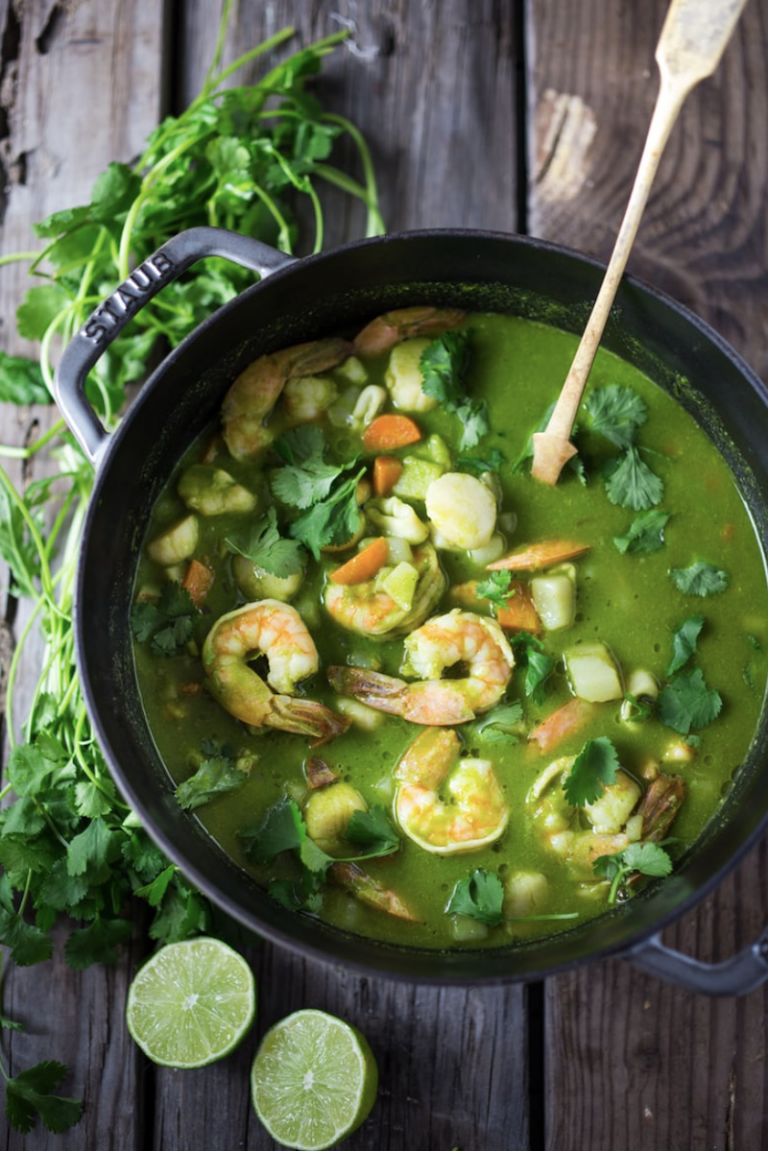 Why We Love It: This is one of those summer soup recipes you will want to make on your next beach vacation. Of course, you can do it at home, too, but how fun is it to get creative with fresh seafood at the beach? If you aren't a seafood lover, this recipe notes that you can easily use chicken or chickpeas instead. The real star is the cilantro broth and it tastes great with almost anything. 
Hero Ingredient: The cilantro broth. Every great soup needs a great base.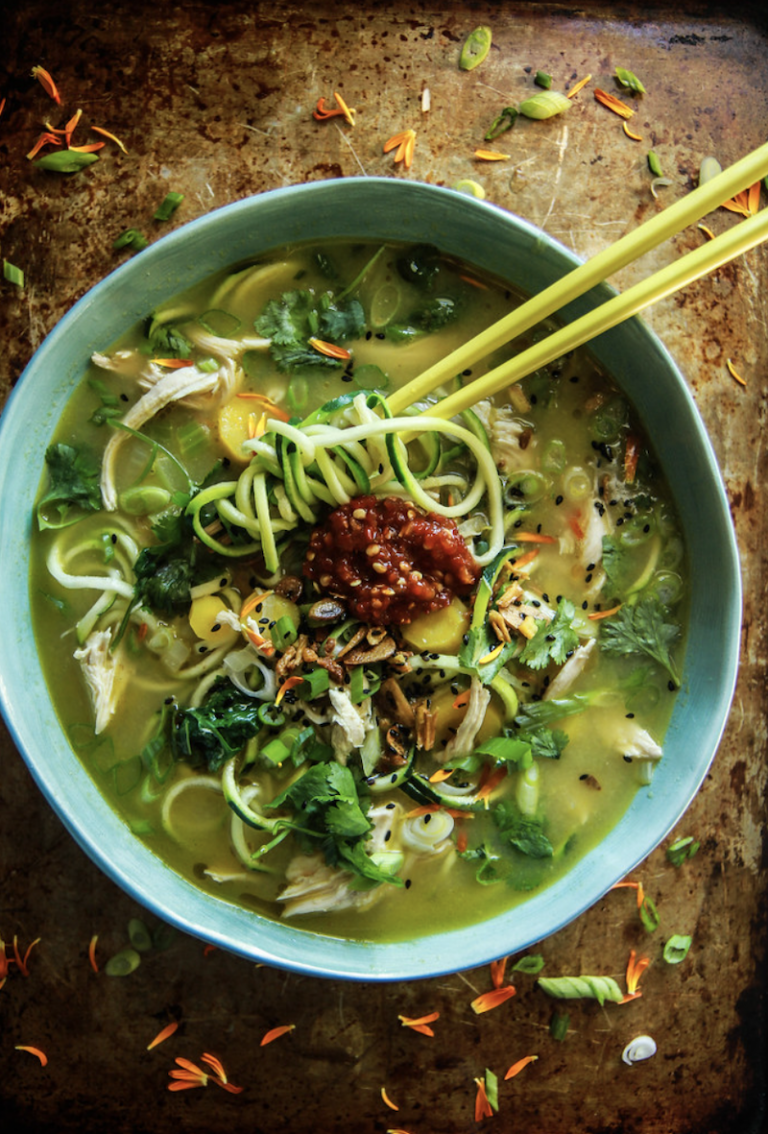 Why We Love It: This might be one of the most flavorful soups on this list. When you're craving pasta, zoodles don't always do the trick, but in this soup they truly do. The fresh green onions and cilantro make the soup so bright that even though it's hot, it screams summer. Try this recipe the next time you're craving Asian food. 
Hero Ingredient: Zoodles, for tricking my taste buds.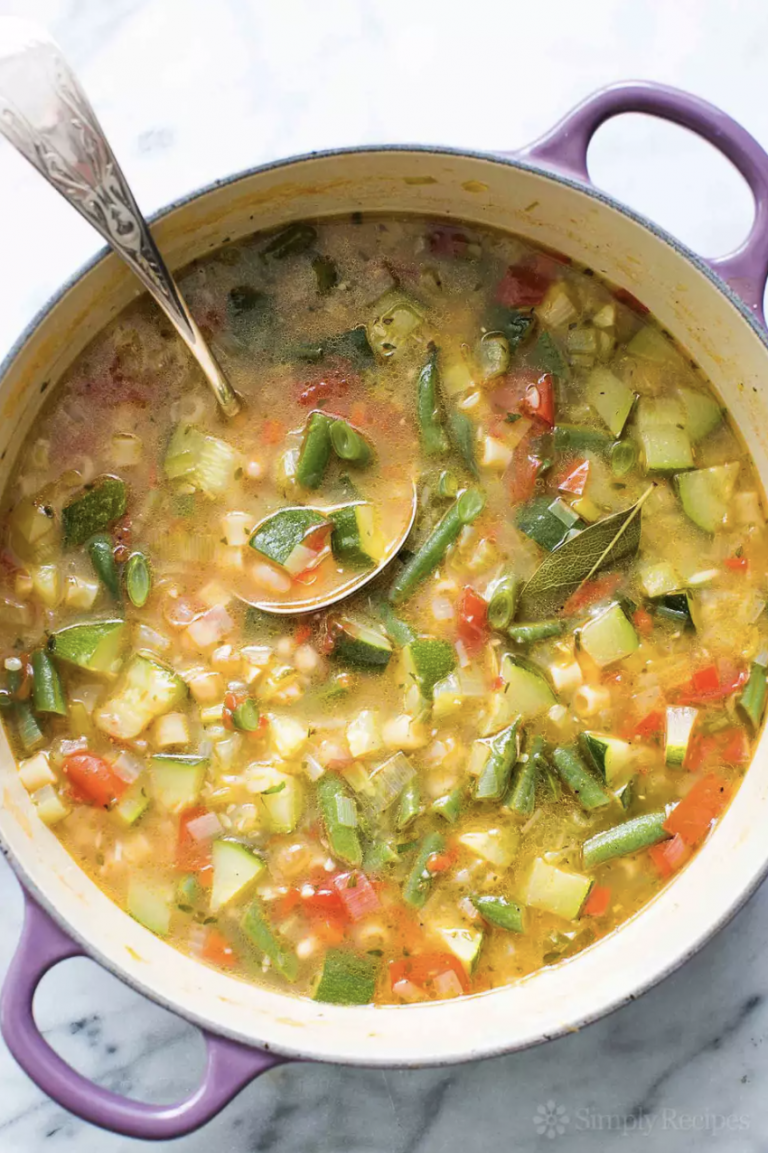 Why We Love It: I love that this soup is described as a "throw-together event," because that's usually how all of my cooking goes. You can use whatever summery veggies you have in the fridge, any kind of pasta (or brown rice), and dinner is served. Don't have chicken stock? Vegetable stock works, too. Super customizable, super fresh, super summery.
Hero Ingredient: The white beans for the plant-based protein (and flavor).
Cold Summer Soup Recipes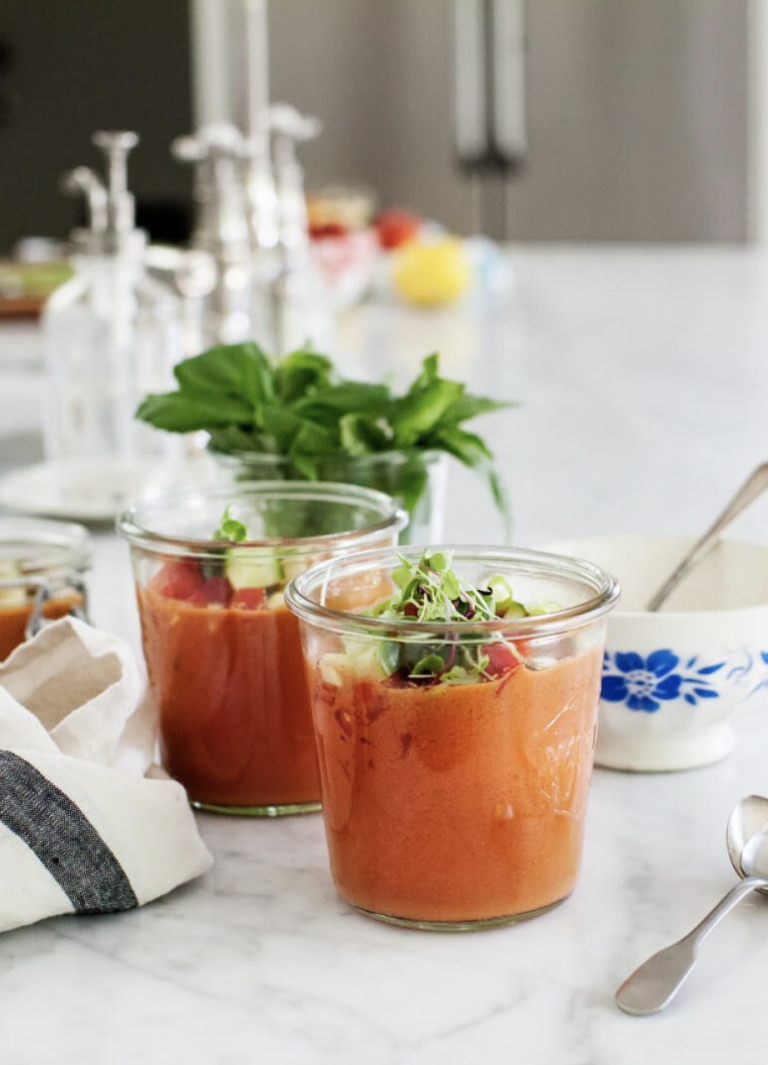 Why We Love It: This is the ultimate lunch on a hot summer day. I personally love watermelon, so the idea of watermelon gazpacho excited me, but it can definitely throw some people off. However, the watermelon just balances out all of the other ingredients, and the soup is still savory. It's just that much more refreshing and summery. 
Hero Ingredient: Watermelon (listen to Watermelon Sugar by Harry Styles while you cook).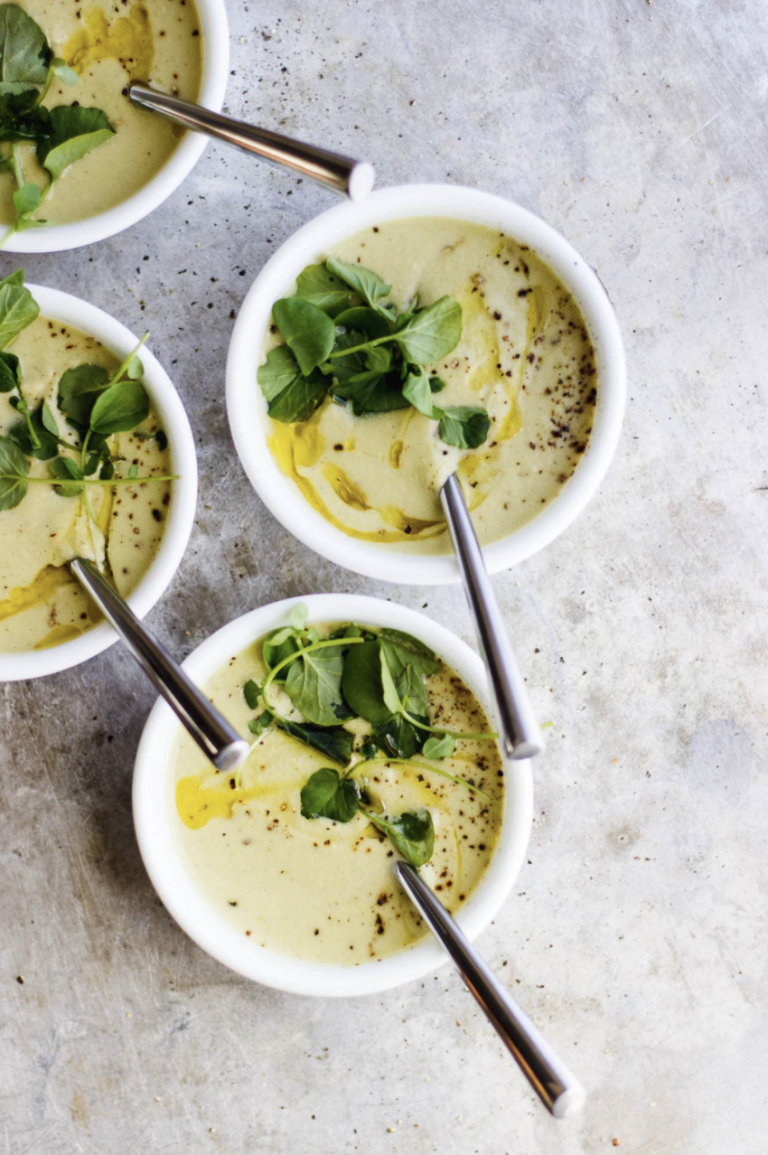 Why We Love It: Gluten-free, vegan, creamy, salty, refreshing, and ready in 20 minutes. What's not to love? This soup is full of antioxidants and anti-inflammatory ingredients and tastes so good chilled on a hot summer day. Hint: it tastes equally as good hot in the winter, too. 
Hero Ingredient: Celery season is just getting started, so take advantage of this recipe now.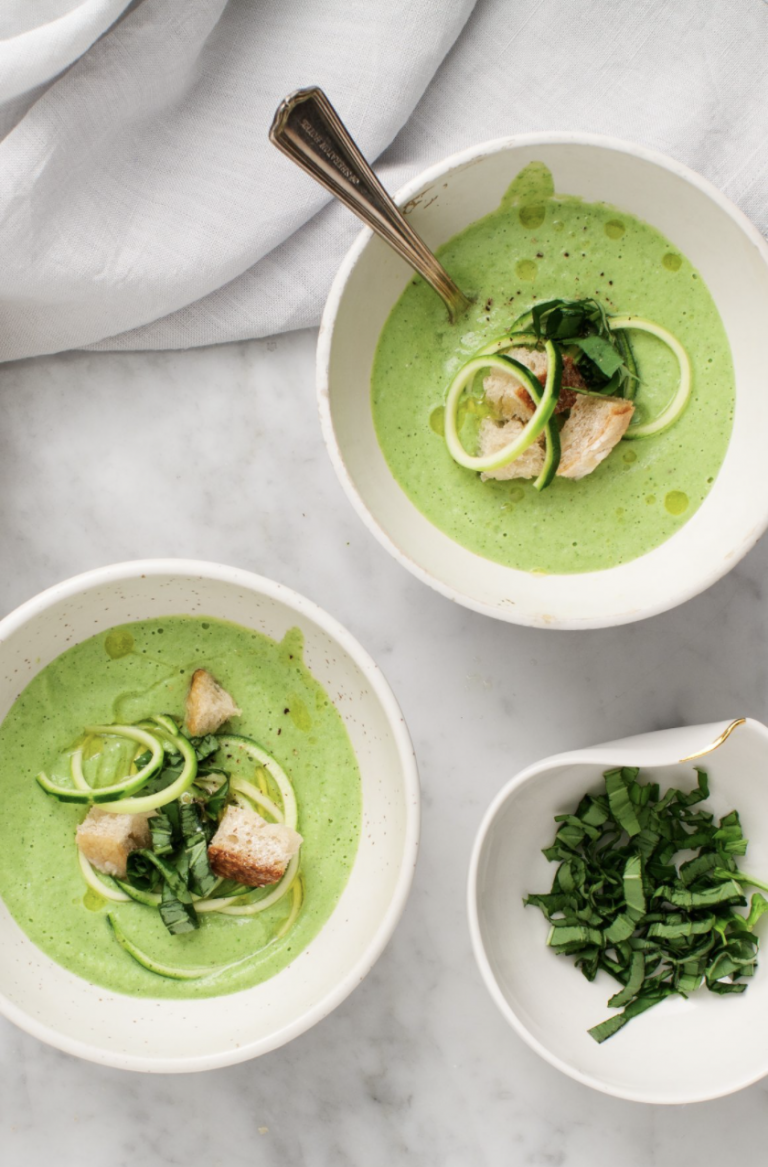 Why We Love It: This soup allows both basil and zucchini to shine in their prime season: the summertime. It's served at room temperature or chilled, which allows the basil to keep its freshness and really lighten up the soup. I also love that it gets its creaminess from hemp seeds, not milk or cream.
Hero Ingredient: The zucchini and basil are really going to have to fight it out on this one. The soup wouldn't be what it is without either.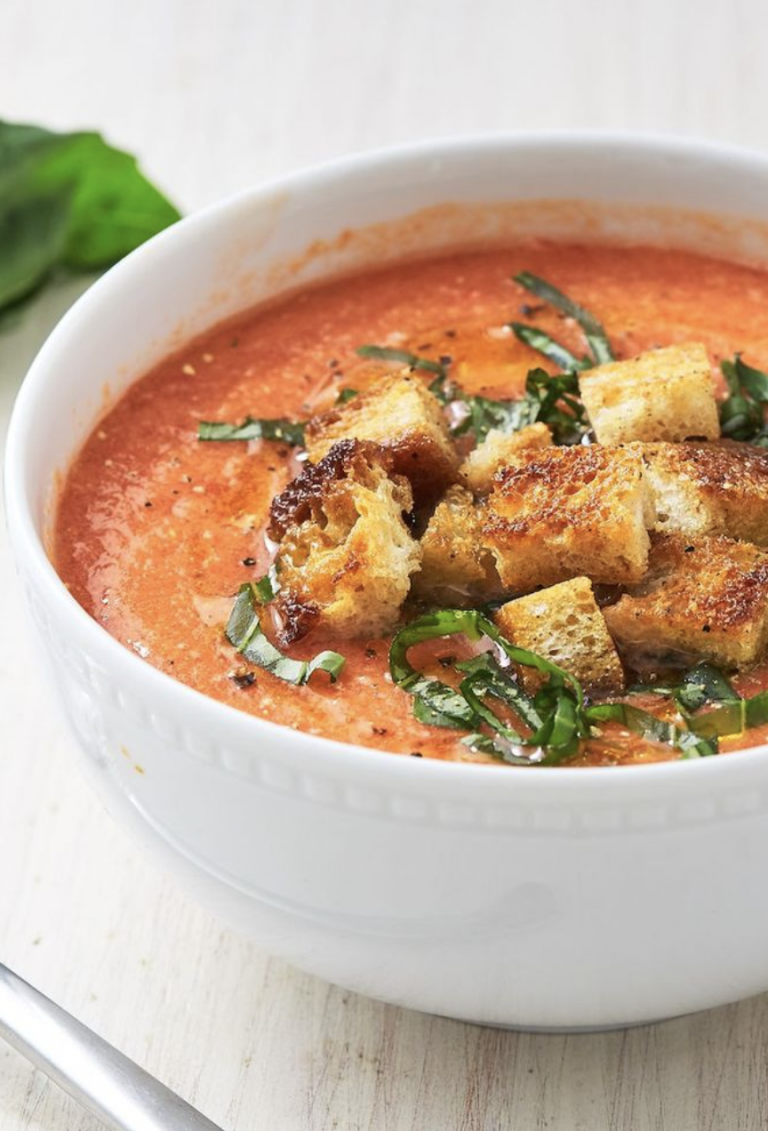 Why We Love It: This gazpacho recipe is a super easy way to use up summer tomatoes. It's arguably one of the most fresh summer soup recipes, as it's served cold and with only fresh ingredients. I personally skip the croutons when it comes to gazpacho, because I like it to be super light, but if you're looking for a more hearty soup, definitely add them in.
Hero Ingredient: Summer tomatoes, AKA the best kind of tomatoes.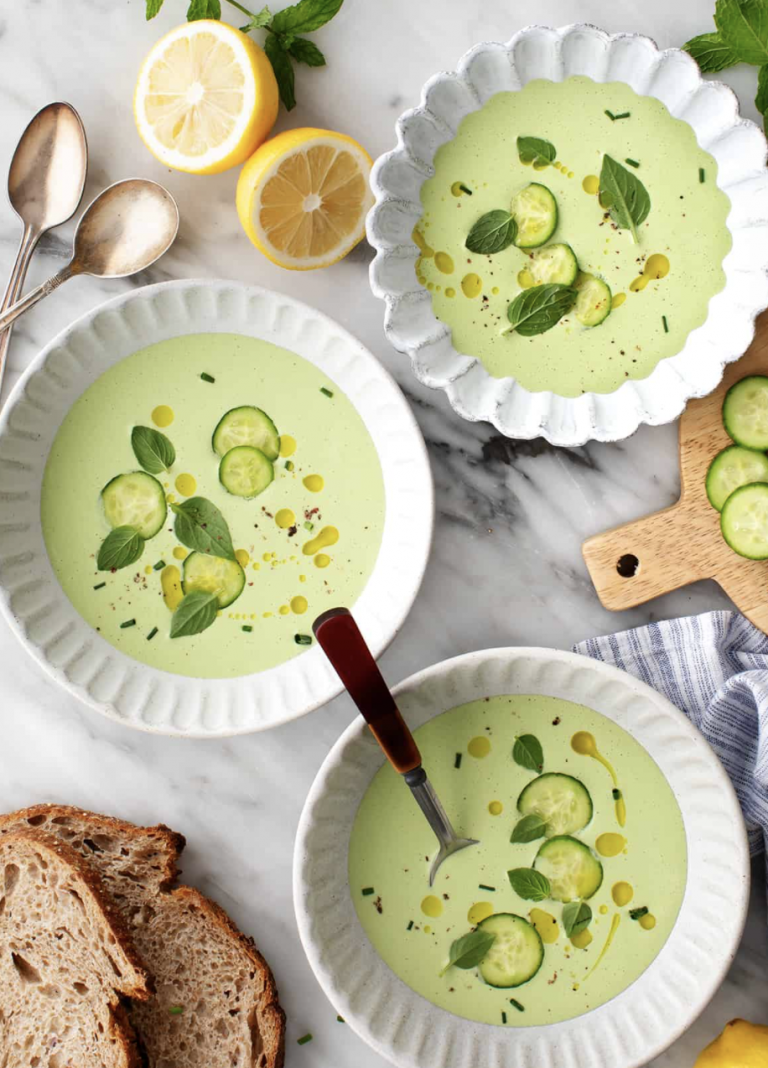 Why We Love It: This soup won me over for being completely heat-free. By that, I mean you don't use an oven, grill, or stove in the preparation. Now THAT is a summer soup. It's full of nutrients and is the perfect refreshing lunch or appetizer for those too-hot-to-cook days. 
Hero Ingredient: The cucumbers, but specifically the ones on top for the perfect crunch in every spoonful.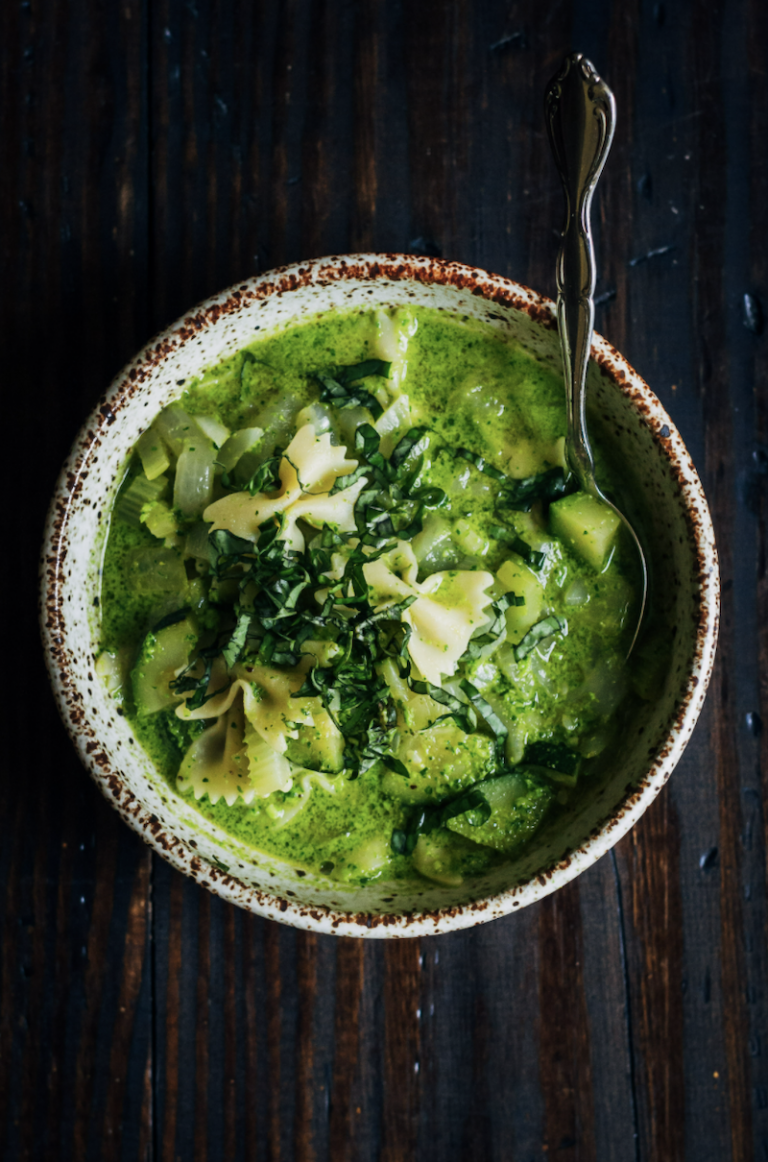 Why We Love It: Disclaimer: I know that this summer soup recipe isn't written to be a cold soup, but I was too lazy to heat it up one day, and I'm convinced it should always be eaten cold. The ingredient list is packed with delicious summer green veggies and includes a really great homemade pesto recipe. The pasta could definitely be excluded for a lighter soup, but I love what it does to the texture. 
Hero Ingredient: When pesto is included, it's almost always my favorite ingredient.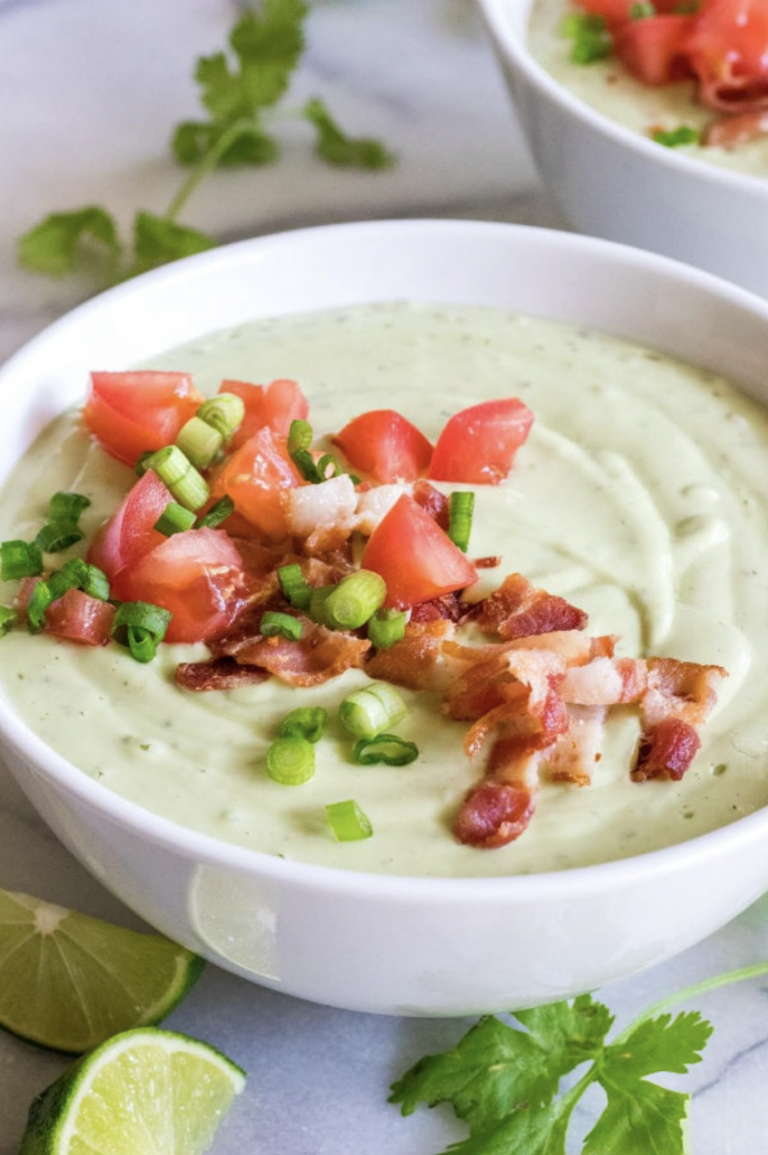 Why We Love It: I think it needs to be said that I, too, thought avocado soup sounded disgusting. Upon first impression, I had all but written this recipe off as no good, until my first bite. It's creamy, cold, and almost has a Mexican flavor to it. 
Hero Ingredient: Avocados. Even though they hit their prime in spring, I can never get enough.